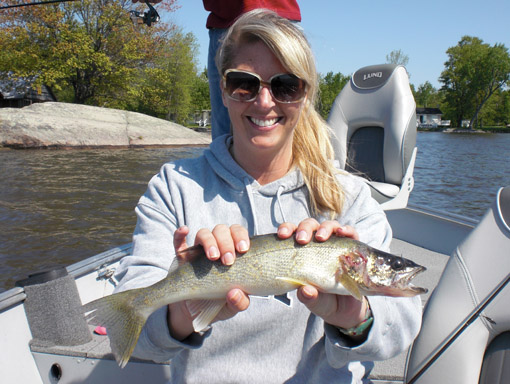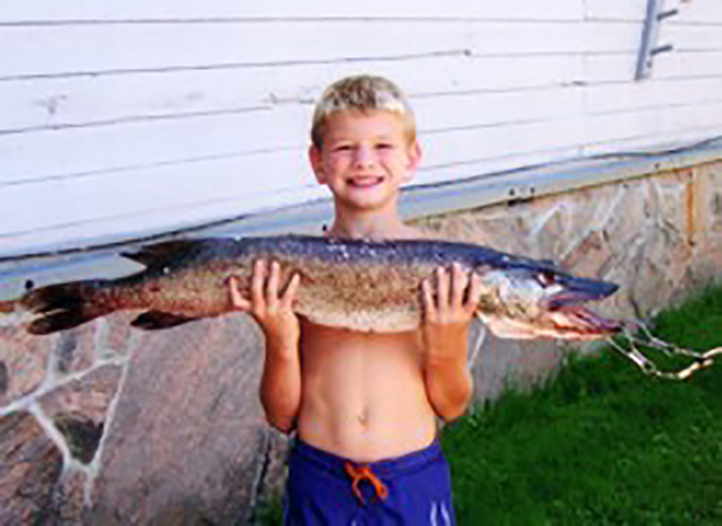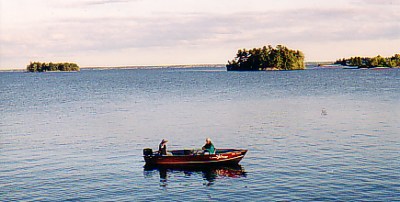 The Lure of Spring Fishing…the fish bite, but the black flies don't!! We enjoy a small miracle at our camp. We don't have those pesky spring black flies here. It is hard to believe but true!
Hungry walleye, pike, perch and muskie and no black flies, what could be better for a spring fishing trip!
There are many places to go fishing from here.  Our central location on the north shore of Lake Nipissing, offers easy access to the upper French River, many islands, the west arm of the lake, Cache Bay, and the large part of the lake. We maintain a "short cut" channel to fishing spots in Cache Bay, so it is only a short boat ride away from camp in any kind of weather.
The Hardwood Islands, which are within 5 min. from camp by boat, were recently reported In Ontario Out of Doors Magazine to be one of the premier muskie fishing places in Ontario.
You can always find a protected shore to fish with the many islands around camp. Trophy size walleye are here all year. This area of the lake is the most under rated bass fishing area of Ontario.  Big largemouth and smallmouth bass are here.  You can even catch them off the dock! Great perch and pike are found in the many weedy bays and shoals close to camp. Pan fish such as blue gill, crappie and others make it fun and easy for everyone to catch fish.
All of our guests get a free "fishing map of the hot spots" and we are happy to talk about what lures are working and where the fish are today. We have an indoor fish cleaning and freezing facility for guest to use free. We will show you how to get boneless fish fillets.
We sell live bait, fishing licences, hydrographic maps, hats, tackle and miscellaneous items in our tuck shop. Gas and oil for boats are available at our marina.