We are located on the north shore of Lake Nipissing, between the towns of Sturgeon Falls and Verner. The cities of North Bay and Sudbury are 1 hour away on Hwy 17. Cache Bay is only a 5 min. boat ride from camp. Our central location allows easy access to the upper French River, the Hardwood islands and many other islands and bays, the west arm of Lake Nipissing, and the large part of the lake.
Maps of Lake Nipissing:
We give our guests complimentary maps of the area close to camp and we sell official hydrographic maps of Lake Nipissing and the Upper French River.
How To Get Here:
We are approx. 4 hours from Toronto or Ottawa and 5 ½hours from Sault St. Marie. Hwy #11 from southern Ontario is a 4 lane divided highway almost all the way and is the fastest route.
From Toronto:
Take Hwy. 400 north to Hwy. 11 north
Take Hwy. 11 north to the city of North Bay
In North Bay Hwy. 11 becomes Hwy. 17 west
Follow Hwy. 17 through the town of Sturgeon Falls and 3 km (1.8 miles) past the town, look for the road sign on the right side of the highway for Levac Road and Camp La Plage.
Turn left at Levac Rd and follow the road. Do not go into Cache Bay. Follow camp signs and after railway tracks on Leclaire Rd, turn left on La Plage Rd. Follow camp signs on La Plage Rd to the end of the road.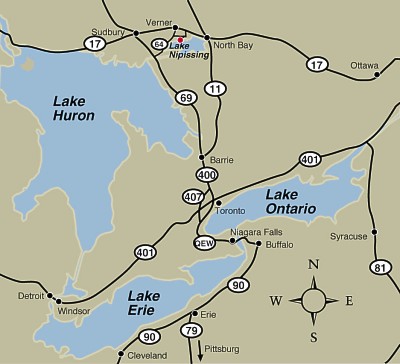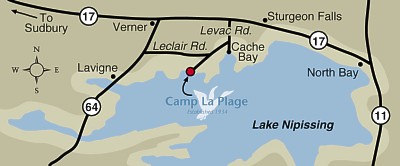 From Hwy. 69 or 64 South
Going north follow Hwy. 64 through the town of Lavigne.
Approx. 9.5 km (6 miles) past Lavigne, turn right on Leclaire Rd. If you get to Verner, you have gone too far.
Follow Leclaire Rd. Turn right at the "Camp La Plage" sign at the corner of La Plage Rd.
Follow the camp signs from there.
From Sudbury and West
Follow Hwy. 17 going east to Verner
Turn at Verner on to Hwy 64 south
Follow Hwy 64 south to Leclaire Rd, turn left (east) onto Leclaire
Follow Leclaire to La Plage Rd on the right side of road. You will see the Camp La Plage blue sign on the left side at the intersection
Follow La Plage Rd. and camp signs to the end
Approx. Driving Distances to Camp La Plage:
Baltimore, MD 674 mi  1085 km
Buffalo, NY 327 mi 526 km
Charleston, WV 726 mi 1168 km
Chicago, IL 735 mi 1182 km
Cleveland, OH 530 mi 853 km
Detroit, MI 454mi 730 km
Indianapolis, ID 743 mi 1195 km
Montreal, QC 390 mi  627 km
New York, NY 720 mi 1160  km
Ottawa, ON 260 mi 418 km
Pittsburgh, PA 555 mi 893 km
Port Huron, MI 419 mi  674 km
Sault Ste. Marie, ON 242 mi 389 km
Toledo, OH 536 mi 863km
Toronto, ON 237 mi 381 km